Economy and Reliability
As an alternative to conventional treatment steps, such as flocculation, sedimentation and multi media filtration, NOVAX® UF Filtration system reliably remove turbidity, suspended solids, and pathogens such as bacteria and protozoa from a raw water stream. Even if the inlet water quality is inconsistent, a very high quality outlet can be achieved using NOVAX® UF Filtration system .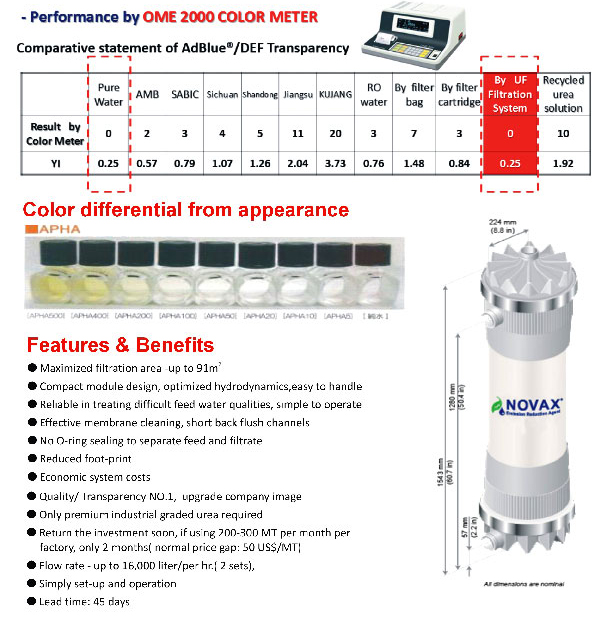 van der Waals force
In physical chemistry, the van der Waals force (or van der Waals' interaction), is the sum of the attractive or repulsive forces between molecules (or between parts of the same molecule) other than those due to covalent bonds, or the electrostatic interaction of ions with one another, with neutral molecules, or with charged molecules.
Features & Benefits
● Maximized filtration area – up to 91m2
● Compact module design, optimized hydrodynamics, easy to handle
● Reliable in treating difficult feed water qualities, simple to operate
● Effective membrane cleaning, short back flush channels
● No O-ring sealing to separate feed and filtrate
● Reduced foot-print
● Economic system costs
● Quality/  Transparency    NO.1,  upgrade company image
● Only premium industrial graded urea required
● Return the investment soon, if using 200-300 MT per month per factory, only 2 months( normal price gap: 50 US$/MT)
● Flow rate - up to 16,000 liter/per hr.( 2 sets),
● Simply set-up and operation
● Lead time: 45 days